Ausperl Grade 3 Vermiculite
Sold out
Original price
$46.50
-
Original price
$46.50
Benefits: 
¢ Inorganic, inert and sterile
¢ Non-abrasive
¢ Ultra-light weight
¢ Free from disease, weeds and insects
¢ Slightly alkaline (neutralized with peat)
¢ High cation-exchange (or buffering exchange)
¢ Excellent aeration characteristics
¢ High water holding capacity
¢ Insulating
Great with any Indoor hydroponics system. Some examples of indoor hydroponics systems are Ebb & Flow, Drip Irrigation and Deep Water Culture (DWC).
Ausperl review how to use for growing types using soilless mediums best indoor potting plants mix Australia for rooting size. 
Vermiculite is used in thousands of applications from potting soils, light weight concrete, fire protection construction materials, intumescent applications, as a UN approved packaging material for the safe shipment of hazardous liquids, texturisers in paints and coatings, and most recently as nanocomposites for films, coatings and barrier applications. When subjected to heat vermiculite has the unusual property of exfoliating or expanding into worm-like pieces (the name vermiculite is derived from the Latin ˜vermiculare' to breed worms).
This characteristic of exfoliation, the basis for commercial use of the mineral, is the result of the mechanical separation of the layers by the rapid conversion of contained water to steam.
The increase in bulk volume of commercial grades is 8 to 12 times, but individual flakes may exfoliate as many as 30 times. There is a colour change during expansion that is dependent upon the composition of the vermiculite and furnace temperature.
The bulk density of crude vermiculite or vermiculite concentrate is in the range of 640-1120 kg/m³ and exfoliated or expanded vermiculite is in the range of 64-160 kg/m³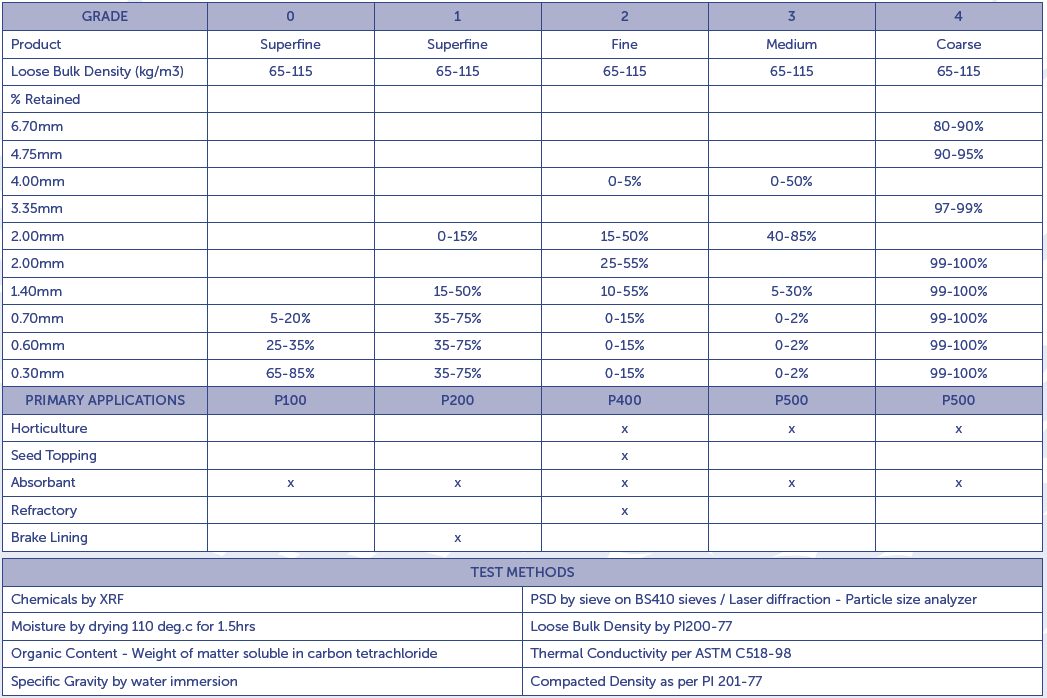 The vermiculite supplied by Ausperl has been analytically tested by a NATA Accredited Laboratory and was found to contain NO trace of asbestos. Reports are available on request.